Car Video/Audio and Photos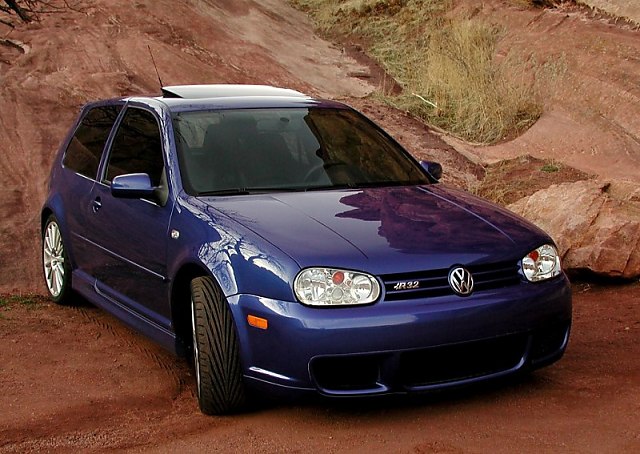 New Media Server
Many new videos on the new House of Thud Media Server
Most new content goes there first, before I ever update this page.
My R32 related videos
New January 2007
My midnight snowrun on a local twisty road set to music, and another version without music..
Daytime snowrun on the same road (closed from the top) with nearly continous drifting. Without music (better) and another version with some humorous music
New October 2007
Bunch of track videos from Pueblo Motorsports Park.
PMI Chasing Porsche 911, and STI
PMI Chasing S4, 911, and Corrado
PMI Chasing 500hp turbo SHO, and 350Z
PMI Chasing e36 M3
New July 2007
Track day at Pueblo Motorports Park
PMI Chase 1
PMI Chase 2
New April 2007 -
SoCal R32 track day at Streets of Willow
Session 1, video 1 of 2 (stuck behind slower STi)
Session 1, video 2 of 2
Session 2, video 1 of 3
Session 2, video 2 of 3
A quick run along Angel's Crest Highway behind another R32

Misc
A couple blasts through Glenwood Canyon Tunnel with the windows down
One, Two
Raging along the edge of Roan Cliffs (1000 foot drop) on a dirt road
A moment of perfect Synchronicity on a Kansas highway

Some serious fun in the snow in a deserted parking lot with good exhaust sound.
Here's a run up a local twisty road (DIVX AVI) (20 megs) with really good exhaust recording
The above video is mirrored here. (Pick one of the two links randomly to distribute the load a little)
Hard launch in the gravel 1 (DIVX AVI)
Hard launch in the gravel 1 (DIVX AVI)
Sliiide(DIVX AVI)
Fast flyby (DIVX AVI)
Short sprint (DiVX AVI) through a couple switchbacks
My R32 related audio clips
First gear launch (mp3) going through several gears
Second gear launch (mp3)
Cruising on twisty road (mp3)
More cruising (mp3)
Added underhood mic (mp3) to exhaust mics
My R32 related photos
Galleries of my R32 and other people's plus technical stuff
Some more here
And more technical photos here

Test and Tune at Second Creek Raceway in the GTI
Second Creek Raceway is my favorite track because the rules are simple. Test and Tune time
is 9 to 5 every weekday (that it's not rented out), and all that's required to run on the track
is your money, a car, and a helmet. If two people want to come out here and race, then
they can do so. People generally wave each other by when passing and there's no
requirement that you pass at any specific place as both people know what's going on.
Anyway, here's some videos from my last track day there.
This video starts with me passing a vintage 1951 Ferrari 340 Mexico, then a clean lap
by myself, then being passed by a quick motorcycle, then I come up behind a Jaguar (probably
old XK also vintage mid 50's), and an original Mini Cooper and another bike.
The Jaguar, Mini and I rip it up for a couple laps, and then we all get passed by
a Gumball 3000 stickered Porsche 996 Turbo and I slow down to cool off.
Check it out:
Playing in Traffic (Quicktime MOV) ( (24 megs, 10 minutes, Quicktime MOV format)
External View (DiVX AVI) (33 Megs, 7 minutes)

Check out these movies I produced of a GTI-VR6 drive up Mt. Evans road
from Bergen Park to Echo Lake. About 18 miles in 18 minutes in late November
on a cold cold day just before the first major snow of the year (freak winter).
Mount Evans road from Bergen Park to Echo Lake
(02/01/02) New streamable versions of the original three videos encoded using Windows Media Encoder 8.
They're cropped in a widescreen format which allows for slightly higher quality
motion (cutting out some of the bandwidth eating trees at the top of the frame). What I've been trying to do is
get the best quality motion compression combined with the longest run time in the smallest file size possible.
18 minutes total playing time between the 3 videos.
Bottom Third (WMV) 10.4 Megs
Middle Third (WMV) 8.6 Megs
Top Third (WMV) 11.2 Megs
Real Video versions a bit smaller.
Bottom 3rd real video format (3.3 megs)
Middle 3rd real video format (2.7 megs)
Top 3rd real video format (3.6 megs)
Originally encoded in AVI DiVX format.
You'll need to have or go download a DiVX codec to make these work
but they're better quality motion and sound. They look decent at double
size so it's best to open Windows Media Player and tell it to fetch
each of the following URLs while you view it at 2X zoom.
Mt. Evans Drive bottom 3rd(avi-divx) 9.3 megs
Mt. Evans Drive middle 3rd(avi-divx) 7.7 megs
Mt. Evans Drive top 3rd(avi-divx) 10 megs


Other people's videos
A short Auto-X video

1.8 megs, of a particularly fast autoXer
Rob Baldwin ripping it up at the Streets of Willow (mpg) 23 megs.
VR6 Sounds
Here's a link to some sounds of the VR6 in action.
VWoA actually used my sounds on their GTI-Report page.
Go to VW's GTI page and click on GTI Report. The sounds that
play when you hover the mouse over the buttons are taken
from my recordings.
My Auto-X and Race photo pages
Ice Auto Cross on Georgetown Lake, in January 2000.
Feb-20/2000 Auto-X at Bandimere Speedway
March-19/2000 Auto-X at Bandimere Speedway
June 4/2000 Auto-X at Coors Field
Auto-X featuring my GTI-VR6 doing acrobatics (lots of good 3 wheeling action here)
Second Creek Raceway (1.7 mile road course open to the public for a small fee)
Photos of Other Peoples' Rides
Volkswagens on the Green 2001 Big free car show in Denver.
Volkswagens on the Green 2000 Fun thing is, you drive a VW, you can park on the grass and show.

Misc Stuff
Here's a different picture. People are always joking that the stock suspension is so high it looks like a 4x4. Well, here's my car parked on a rock. It's basically resting on the right front and left rear tires. The right rear is off the ground and the left front was spinning while the traction control clawed the car up a few more inches.

And how about something a little more fun? Here's a picture of the speedometer. I'll say a few things about this picture. One, this can be achieved with the car sitting stationary on a dyno. Two, following the letter of the law, it was legal where it occurred at the time the photo was taken. As far as I know, it's the highest photo documented speed recorded in the US for a normally aspirated VR6.
Back to my Home Page