Here was the plan.

I'd been wanting to take a longish motorcycle trip sometime this summer. I've also been wanting to go to Montana, the land of open roads and no speed limits. My father Joe, and his wife Val recently moved to western Montana, so this gave me the excuse I was looking for. This is also where I grew up, and where my grandmother lives so the whole trip was probably long overdue anyway.

It's a two thousand mile trip up and back so this also presented me with an excuse to do some work on the bike, I'd been putting off. First it was a new custom Corbin seat, and then a new chain and sprockets, brake pads, oil change, and a few more bits and bobs. I also picked up some soft saddlebags so I'd have some place to stash everything I'd need for the trip.

Earlier in the summer, I'd put on new tires and a bicycle computer, which would come in handy running across Wyoming and Montana.

I managed to pack all my stuff (I need to make a full list of everything that was in here), into my tail bag and two saddle bags with an air mattress strapped to the back.

The night before the trip. Here is the bike fully decked out, sitting in my patio.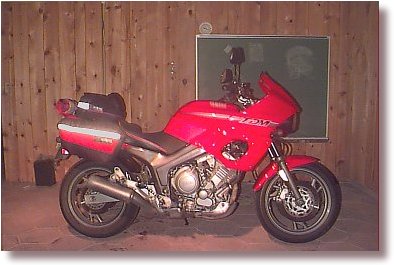 Friday, I leave Lakewood at 10:30pm or so, head north on I-25 to Loveland exit, west to Loveland and then North on Highway 287 to Fort Collins. The traffic was horrid. Next time I'm taking I-25 all the way to Fort Collins.

Fort Collins to Laramie is a nice stretch. Nice to be on 65mph two lane highways finally. At Laramie the Wyoming wind started, and didn't stop pushing me around for the next two days. Laramie to Rawlins on I-80 is fast and boring. Someone in a '96 Maxima chased me around for an hour at 85-90mph. I stopped to get gas and eat something, and ended up passing her 50 miles down the road toward Lander, and she hadn't slowed down yet.

About 4:45pm Friday, I stopped finally to take my first 3 pictures. All those Mars Pathfinder folks seem to like to do composite pans, so not to be out-done, here's my own "Monster Pan" created from my 3 photographs at Red Canyon.